WELCOME to Bg's Main Event.
We are the area's best Sports Bar and Grill! We have a full menu and an awesome staff. If you like to watch sports, we're equipped with lots of big screen TVs. Join us on Sundays for our ALMOST Famous ribs and grilled chicken starting at noon. We will cook it in front of you on the patio. Come see what everyone is talking about!
Phone
(330) 927-9392
Location
124 S Main St.
Rittman, Ohio 44270
HOURS
Monday: 11-11pm
Tues-Thurs: 11-1am
Fri-Sat 11-2:30AM
Sunday: 12-10pm
Bob & Bridget Gibson started Bg's 13 years ago with the intention of serving the best homemade food around and providing a pleasant and safe environment for the whole family. We use fresh ingredients and you will never get served a frozen hamburger patty. We take pride in what we have to offer. We are a family owned business and appreciate your support. We give back to our community any chance we can. We believe a good family starts at the dinner table and welcome families to our place. We started catering 8 years ago because our food was in demand. We truly enjoy catering your event and making it worry free for you. I hope you will stop in if you haven't and let us show you how far we've come along.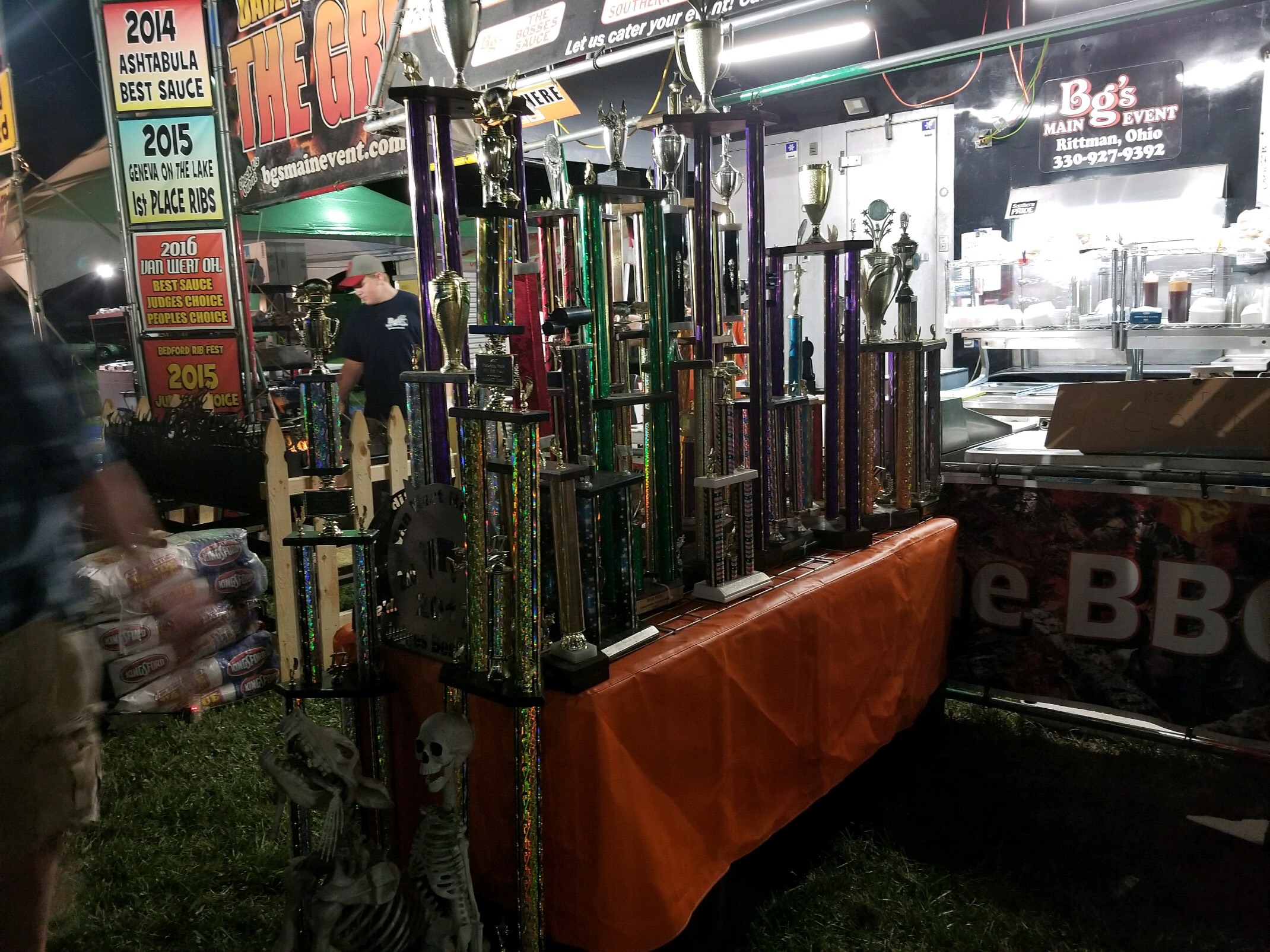 Happy Hour 4-7
Monday-Friday
Half off Appetizer Baskets or $1.99 Nachos!
Tall Bud Light $2.75
Monday
Mike's Hard Lemonade & Smirnoff Ice $2.50
Washington Apple $4
Wednesday
Moscow Mules $4.75
Lil' Beers $3
Friday
Beer Buckets $11 (Premium $15)
Liquid Marijuana $4.50 Bombs $4.75 Well $3.50
Sunday
Corona $2.75
Fireball $2.75
Tuesday
Beer Buckets $11 (Premium $15)
1800 Margarita $4 Patron $5
Thursday
Long Island or Long Beach $4.75
Glass of Barefoot Wine $3.50
Saturday
Absolute Bloody Mary $4
Bombs $4.75 Well $3.50
Early Bird Special
11-2 Daily
$1.50 Busch cans $3 Jager & $2.75 Tall Bud Light Draft
Have an event that you need catered?
We've done catering for Goodyear, Steelworkers, Century Harley, Rittman Lions Club, Blind Golf Association, Rittman High School, Golf Outings, Weddings, Retirement parties, and Graduation Parties. References available


We come to you, do all of the set up, and clean up. Your food will be piping hot, as it is cooked right in front of you.

Call (330) 927-9392 for more information!
Dart Tournament every Friday at BG's. Mystery Pot! Signups at 7:30pm Starts at 8:00pm!
$5.00 Entry Fee
how to
find us!
124 S MAIN ST
RITTMAN, OHIO
44270
(330) 927-9392
Contact Us
Have questions, comments, complaints or praise?
Use the form to tell us what's up!
Don't sweat it! Your information is safe and secure with us. Bg's promises never to rent, sell or trade any personal info provided.